Welcome to our clinic!
Who are we, how do we think, what is our therapeutic spectrum?
Look around in our work environment.
For us, the patient is at the center of what we do.
Deutsche Dental Klinik
bul. Kniaz Aleksandar Dondukov 9
1000 Sofia Center
Opening Hours
Monday – Friday
only by appointment
Our advantage is our team
We are dentists who have gained their qualification at reputable universities in
Germany and specialize in various fields of dentistry. Meet us. At your first visit,
together with you, we will prepare the most appropriate individual treatment plan.
Maintaining healthy teeth is a complex task. That is why we are also preparing complex solutions.
We offer a broad therapeutic range to make sure our patients are in good hands. Only in this way can we meet your needs.
For us quality means a pleasant atmosphere. Our clinic …
Dental offices should not be functional, boring and cold! We want our patients to be in a pleasant
and individual atmosphere. The German Dental Clinic combines optimal location and modern architecture.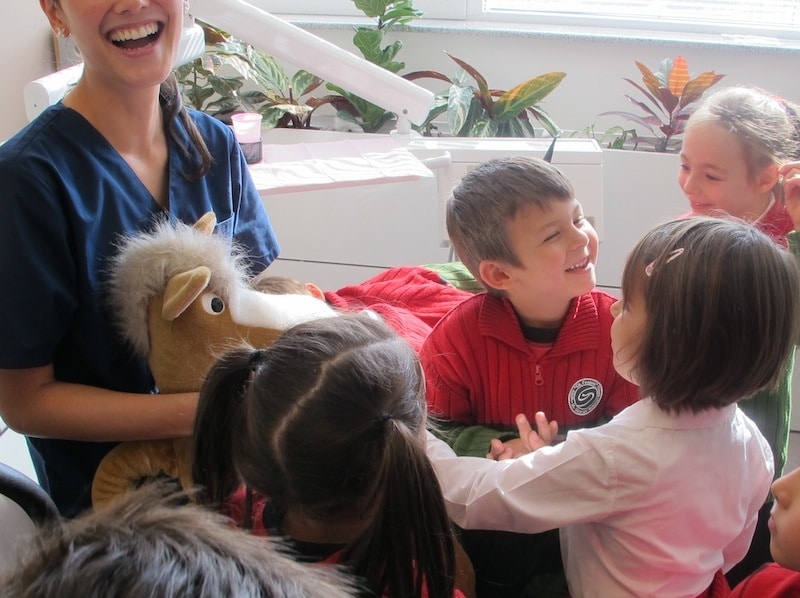 Smiles of St. George
In order not to miss the first seven years …
One of the important aspects of our activity is child dentistry. Here, besides the treatment of illnesses that have already occurred, we attach great importance to prevention and to the creation of proper hygienic habits in children. That is why DDK runs a free program for group prophylaxis of children in kindergarten and primary schools called "Smiles of St. George ". Our program is fully in line with the recommendations from the German Scientific Society for Pediatric Dentistry. Our main goals are to educate children to acquire proper hygienic habits, to establish the need for dental care and prevention and to create conditions for good oral hygiene in educational establishments. Our program covers the following events:
Training of the teaching staff.
Parental training.
Visit to educational institutions for the purpose of training children and conducting prophylactic examinations.
Visit of the DDK German Dental Clinic by young children to help prevent fear from a dentist.
Tracking the effects of group prophylaxis through a re-visit to educational institutions.
Scientific literature shows that group prophylaxis is the most effective method of improving oral health in childhood. We are proud of the fact that in recent years our program has reached thousands of children in Sofia.